Early Childhood Education – my journey into teaching, protecting and caring for little ones aged 0 to 5 years
About Me
As of the 30th of November, 2015, I am really happy and excited to let you know that I will officially become a Diploma student of Early Childhood Education and Care. (TAFE Queensland Brisbane). This Diploma qualifies me to become an Early Childhood Teacher and as such, I abide by laws and regulations that protect children and their rights.
Inspired by my love for my own Son, and every little One, I feel there is nothing more important than to care for the wellbeing, education and health of our kids. My journey into this field has been a heartfelt decision and I have a compelling vision to make a difference to the lives of children and families – wherever I may go. I understand the pressures that families face and believe that by undertaking this path in my studies – I can help to affect change through service, education and creativity.
I aspire to bring my technical skills and community minded approach to this journey.  I feel really grateful that I can make this step into becoming an awesome Early Childhood Teacher.
National Quality Framework
Guide to the National Quality Framework
Belonging, being and becoming
Belonging, being and becoming—Early Years Learning Framework
Education and Care Services National Regulations
Education and Care Services National Regulations
Early Childhood Australia Code of Ethics
Working With Children Check
In Queensland it is required that any person who works with Children must hold a valid and current Blue Card.
Tools, Links and Resources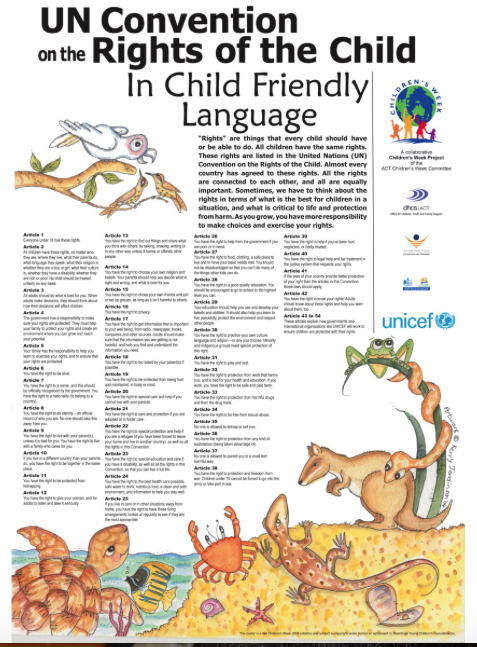 Storypark.
An incredibly simple, free (for parents) and easy to use e-portfoilio and communication tool for kids, parents and teachers to communicate and collate in real time, online and safely.  Storypark is a fantastic mapping and reporting tool for educational experiences and outcomes.
Volunteer, Community & Causes
Not for profit projects and charities for children and families that I proudly support.
Day of Difference Foundation - supporting critically injured children and their families.
The
Day of Difference Foundation
's work in supporting critically injured children and their families is World First.  Despite many thousands of injuries occurring every year, there is no National Register until now.  The Foundation also provides the stepping stones for more support for families, the often unrecognised when trauma has occurred. Read more by visiting http://dayofdifference.org.au
Heartfelt Hope - See the Unseen. Hear the Unheard. Love the Unloved.
I have a very special soft spot for this organisation founded by Helen and Ben Betz and their family.  The incredible outreach and missionary program that now extends to impoverished countries to provide education, medical facilities and support for families, many of whom are orphan children who have been affected by AIDS and poverty. The organisation walks the talk – and the faith. "See the unseen.  Hear the unheard.  Love the unloved" On hearing a story from one of their missionaries in Uganda about a widowed Mother of 9 (4 of whom were orphans) praying for a roof to cover their home, I was able to donate something that meant comfort, protection and shelter in very real terms. Any donation you make to this organisation – 100% of what you donate to this organisation – goes to providing direct support to a family in need.  Please visit
heartfelthope.org.au
to learn more.
Kiva.org - Empower people around the world with a $25 Loan.
Kiva.org is an amazing way to be able to help people who need assistance to support their efforts to create a better life for themselves and their communities.  You can view people and projects and for as little as $25, you can join others to 'group fund' a project.  This loan is then paid back in manageable, trackable amounts.  When the loan is completed, you can simply give it back again to another project you choose. I chose to help fund a family in Cambodia who desperately needed a toilet for their health, safety and comfort. This was a gift to myself on Valentine's Day and one I think I will repeat every year.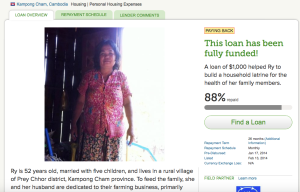 Sunrise Children's Villages Cambodia
I met Sunrise founder, Geraldine Cox at a Business Chicks breakfast in Brisbane.  This unforgettable, strong and dedicated woman responded to the tragedy that she found herself surrounded in and has made an immeasurable impact on the people of Cambodia.  Her first words when speaking was "I am not going to apologise for the things that I am about to tell you…" and the entire convention was left heartbroken, but inspired by the courage of the children and their remarkable ability to respond and heal when placed in gentle, loving care. The villages comprise of many other little 'brothers and sisters' who too, have endured more than any child should bear. I donate to this charity when I can.  I have a goal of participating in a service project to support Sunsrise Villages in 2017.